Flight Of The Light
Following the flight of the light. Its silvery line paints the sky.
Splendid defiance against the darkness of night.
But hope is strong, love victorious, freedom glorious.
Remembrance of the mysterious source
subdues all doubts that only play  their game with us.
If we are ready to wake up, we will meet again
the precious meaning of life, precious as life is itself
and feel the Glory of newborn love, bright like the morning,
warm like understanding, dreamlike beautiful like trust.
Following the flight of the light. Golden movement
overcoming all limits you have put into time.
There are no limits, eternity waits for a free choice
of an earth-born soul, of a courageous heart
born into time ready to follow the flight of the light.
Endless Wideness, delightful dance of cosmic beings
flying at your side, feeling close your warm heartbeat.
Following the flight of the light. Its silvery line paints the sky.
Lyrics & Music: Mirakali © Mira Sound Germany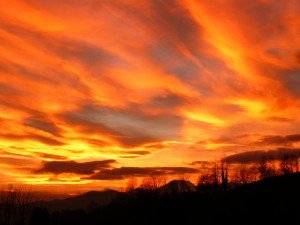 COSMIC FANTASY
Marvelous dreams appear at the horizon
of a cosmic dream.
Intergalactic mystery of a drifting sea
between dream and reality.
Pushing towards the sunrise
of a new galaxy.
Stars like eyes of a cosmic being
dreaming, musing inside your dream.
A planetary song whispering of life.
Cosmic fantasy and a dream
of life and love and bliss.
Bliss of life discovering light sparkling in your eyes,
near to your own mystery.
Beyond understanding,
listening with wonder to every heartbeat
of a living being inside cosmic fantasy.
Yes, one breath and a whole life fulfilled.
Cosmos and light, stars and the might
of a dream pushing towards you.
Knowing all and nothing
of all the wonders inside you.
Lyrics & Music: Mirakali
© Mira Sound Germany
FUTURE EARTH
Future Earth rising from the depth
high into the light of a new becoming.
Future Earth is a star that illumines the night
and lets all darkness disappear with its warmth and love.
Future Earth is a new life for a planet and all its beings.
We move towards the tender light of mighty love.
We know with certitude that the good will win.
Love is our strength. Love is our path out of darkness
towards the golden ocean of delight.
The Future Earth is our paradise.
Flowers and meadows bloom with the smile of heaven.
The planet is green and strong with all its woods and oceans.
Future Earth comes from within.
Future Earth lives in the wind and whispers to you:
"Wake up, wake up and move towards the light."
The future is bright. The future is the goal.
The future is love and peace, the future is world unity.
The future is worldwide harmony.
Future Earth brings the kingdom of heaven upon earth.
On Future Earth we all are free.
Future Earth is for a new humanity.
Future Earth is friendly and grows with tender power
towards a star of happiness and peace,
oneness and harmony in a cosmic new creation.
Lyrics & Music: Mirakali
© Mira Sound Germany
Angels In The Night
You open your eyes and feel the light pouring into you.
Bright stream of a New Life
coming from the Bright Earth
flowing around and within.
It's God's precious kiss
and you feel the truth of heavenly lips.
There is oneness, there is love.
You fly happy and wide into a new sky.
Precious light, enchanted bliss.
You feel the magic, the dream
what earth can be:
the whole planet a new paradise
in a cosmic sea.
Whoever it is that feels the dream:
it is reality.
You open your heart
and understand with love.
Oneness and truth.
Angels came in the night to us.
They touched us
with their glorious light.
Lyrics & Music: Mirakali, © Mira Sound Germany
SORA NI MITU – SEEING THE SKY 
(Translation of the song lyrics from Japanese)
Have you seen the sky, the hidden land?
Have you heard the bird crying in the dark?
Hero, bright shining and powerful,
until dawn I will wait for you.
Summer grass singing in the wind.
Drifting waves at our feet.
Daybreak, sunrise lights the mountains
touched by the shining moon.
I'm so deeply moved.
Light comes gently from the sun in springtime.
How long will my heart among the fields be a-wandering?
Is it night's darkness? Or have you lost your way?
Suddenly within me yearning overflows.
The sky, the hidden land, the bird in the sky calling into the light.
Hero, bright shining and powerful,
until dawn I will wait for you.
Lyrics & Music: Mirakali
 © Mira Sound Germany
THE WAY TO THE OTHER SHORE
Move on, move on,
find your way to the other shore.
Climb up the mountain,
cross over the river,
overleap the deep valley,
leave the places of darkness,
leave the people of madness and strife.
Find your way to the other shore.
There begins the path of courage,
there you become a warrior of love,
a fighter for freedom,
there you find the sense of life,
the meaning of the world,
there you'll find your destiny
and the one friend that will never leave you.
Never be lonesome.
There you find the peace inside,
the wisdom, the smile.
Move on, move on!
Move on, move on,
find your way to the other shore.
Cross the ocean to a deeper sea.
Push forward, don't hesitate,
there's no time to waste.
You must feel it, you must experience it.
Be yourself to the depth of your soul
or you will miss the way, will miss the chance.
Move on, move on,
find your way to the other shore.

Lyrics & Music: Mirakali
 © Mira Sound Germany
THE HEART THAT BEATS LIKE YOURS
Wisdom comes to you when you feel the warmth.
More precious than all the treasures of this world
are the treasures of your heart you carry within.
Nothing is comparable to the song you hear in the heart
that beats like yours. So near, so warm, so tender, so strong.
We walk upon the earth and love the land, the wind and sunshine.
We walk beneath the sky and free is our mind and life.
We travel through life looking for the home that gives us shelter, that gives us warmth.
But nothing can be more precious
and more warm than the heart that beats like yours,
so close, singing the same melody
like your own soul.
We cross the river, we reach the other shore, feel every stone under our feet,
we see the flowers on the meadow of joy. The children play there in the fields of peace
and learn how to be good, how to listen, how to see the preciousness of our mother earth
that gives us life, a body, a soul. The future like a sun ray sparkling on a wet leaf.
Nobody can tell you what will come, but it will be better
when you know the loving heart that beats like yours.
Some people call it love, but it is for sure the most precious thing
you can ever find in this universe.
And still you listen and hear the song
of the heart that beats like yours,
singing of nature, of the woods and trees, of a land
that is beautiful and should it forever be.
Lyrics & Music: Mirakali
 © Mira Sound Germany
Damn Good Shit!
The lights were on but there was nobody at home.
And she who was standing there with tits on fire
she was not playing with a full deck.
But what should we do,
it was the same shit but a different day.
And she came nearer to him with a smile like a fat grin
in her dumb face:
'Is that your face or did your pants fall down?'
Red-hot alarm in his brainless head:
'Are you fucked-up or beyond all reason?
Do you know with whom you speak, lousy girl?
I'm not up with your dirty tricks.
Fuck off and never come back again',
he replied angry. 'Not too shabby'
he thought while he looked down upon her tits.
Round the corner was a couple, cosing,
snuggling up, canoodling, kissing,
all warmed-up and hot in their embrace.
They didn't take notice of the trouble
of two fools who didn't know it better
to get touchy and edgy instead
of being sweet and wet, tight to tight,
lips to lips, ass to hand, breast to breast
drowned in kisses and dreams of kisses always more.
He all grumpy, she all grouchy,
both all janky and full shitty
they were fed up with getting a date.
Perhaps they were gutless.
The situation was crude and both ripped off
of their own intelligence.
But don't worry some hope still was there.
'I give up' he thought, 'she's good looking,
but all this troubles are more than I can bear.
I'm superman I know
but that is enough. I'm no idiot.
At every corner I can get something better.
And he turned around
and went around the corner.
Brutal stop as he saw
the two lovers all passionate in their loving heaven
didn't take any notice of him.
The girl stopped at his side:
'Can you handle this?', she asked nervous.
'No', he replied straight, and gave her a smile
as large as a canyon.
'Damn good shit what the two are doing together.
Shouldn't we try it once before getting crazy?'
A second later he held her in his arms:
'You're really sweet' she whispered into his ear
with angel voice, 'and so strong'
while she adored his muscles.
A last look to the two lovers and how they did it
and then the rocket started and nothing and nobody
in this universe could stop its drive.
'Damn good shit' she whispered once more in his ear
and then they flew away on their lusty pleasure-rocket.
And the clue of this story:
Make love and not war.
Lyrics & Music: Mirakali, © Mira Sound Germany
Freedom
Your power liberated
in passionate wild blood
streaming through a body
feeling delight of immortal love.
When the last wall disappears you will see the light.
Break out of all prisons and the world will be real.
Love and freedom are your soul's power,
golden wings of a life divine.
What else can you do than to wake up
to a new life that is one with a dream of golden delight?
What can be more real
than your soul?
Without love you will never be free.
Without love you will never live.
But when you reach your goal you will see that
the power was always there deep within.
Wings of golden fire
carry you wide into the heights.
Victory and triumph of the greatest delight,
there where freedom kisses the light.
Love and freedom were always your deepest dream
and now they can become reality.
Lyrics & Music: Mirakali, © Mira Sound Germany
Moonshine In Cyberworld
Warm light reflected on the metallic body of the girl
that laid over there musing with some earthly dreams.
She tried to remember from where she came.
She asked with a soft voice: "Whereto will I go?"
Her glittering black hair danced in the zero gravitation
like mermaids dance in a calm ocean.
While she turned her head towards the door over there
where a man stepped into the scene
of this alien bar somewhere near Orion,
'He looks so sweet' she thought with a sigh.
'Maybe it is he: my prince and dream'.
Slowly she stood up cozying her body with the air
while she enjoyed every movement
that carried her towards her dream.
Time stood still until she reached him.
There the two stood and looked at each other.
Breathless the moment, magic the silence.
'Come with me' she whispered close to his ear
touching his breast with long soft fingers
belonging to another race.
But this mattered little
in this moment of kismet and destiny.
'Follow me,' she said while she turned around
and moved her body through the room
like a black panther, dangerous elegance.
He followed her without a word
while his gaze glided over her perfect shape.
A table in the last corner was her goal.
She sat down, moving like water and light
and looked expectantly into his eyes.
Solar storm shook up the planet
but nothing could be more precious
than this moment when soul meets soul.
He sat down near to her.
'I'm moonshine in Cyberworld' she said.
A moment later they kissed each other and they knew
it is love. Love and moonshine in Cyberworld.
Lyrics & Music: Mirakali, © Mira Sound Germany
Mysterious Earth
Tender blue light of a star.
Mysterious light of a newborn life.
Soul of a living planet, like a dream.
It recognizes that it is real
what it has seen in the magic night
when all the stars whispered
of a mysterious new birth,
the coming of a new world into our world
rising like a sun after a long dark night.
All coldness disappears, warm rays
heal the pain and bring back the light.
Wonder of a new life,
magic of a beautiful soul,
soul of our mysterious earth
where we live, where we are at home
to be conscious, to be strong.
Mysterious earth who we love.
Mysterious earth to whom we belong.
Here we have the chance to be alive.
Here we can discover the mystery
of life and god and light,
of life and god and light.
Lyrics & Music: Mirakali, © Mira Sound Germany
More poems and song lyrics you can find here: http://michelmontecrossa.com/song-lyrics/