MICHEL MONTECROSSA AND MIRAKALI AND THEIR BAND THE CHOSEN FEW AT THE SPIRIT OF WOODSTOCK FESTIVAL 2017 IN MIRAPURI, ITALY DURING FIVE DAYS OF JOY & LOVE MUSIC, 19TH JULY – 23RD JULY, EACH DAY FROM 19:00 – 24:00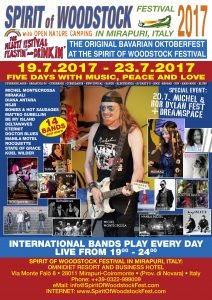 The 25th Spirit of Woodstock Festival 2017 in Mirapuri, Italy, (www.SpiritOfWoodstockFest.com) from Wednesday 19th July till Sunday 23rd July 2017: five Joy & Love Music days of the free music revolution with free entrance and friendly prices for camping, food, drinks and Hotel accommodation, together with the Mirapuri Open Nature Camping and Mirapuri's one and only original Bavarian Oktoberfest in Italy presenting live concerts, hearty festival feastin' and drinkin', groovy festival-bazaar and international coming together.
During the five festival-days Michel Montecrossa together with Mirakali and their band The Chosen Few and International Guest Bands is presenting his brand-new original Cyberrock, Cyberschlager, Cyberdance, Cyberviking, New-Topical and Cyberelectronica-DJ songs and instrumentals for having a good time.
Special highlights for 2017 are the Michel sings Bob Dylan Fest as well as the Dreamspace Electronica Fest, both on Thursday.
Another highlight in addition to the great music performances is the inspiring ENERGY OF ART exhibition of new Michel Montecrossa paintings and drawings in the Mirapuri New Art Gallery of the Omnidiet Hotel which can be seen during the five Spirit of Woodstock Festival days.
All Michel Montecrossa, Mirakali and The Chosen Few merchandise is available at the Mirapuri-Shop on the festival ground and in the internet at www.Mirapuri-Shop.de
Michel Montecrossa and his band The Chosen Few at the Spirit of Woodstock Festival 2017 in Mirapuri, Italy during five days of Joy & Love Music, 19th July – 23rd July, each day from 19:00 – 24:00